Power Stroke repair is our passion, and with more than 30 years experience, we know these engines better than anyone. With cutting-edge diagnostic tools, a modern repair facility and extensive technical knowledge, we'll make sure your Power Stroke engine runs better than it did the day it was built.
We believe every diesel owner has a power junkie living inside. Whether it's a tune and intake that will wake up your truck or a race-ready competition build, PSP Diesel LLC designs Ford Diesel packages for every budget while delivering the highest quality workmanship.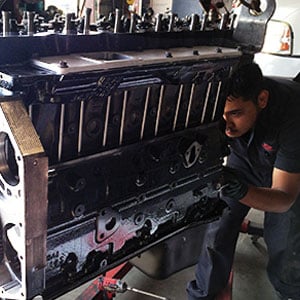 Check engine light on? Truck not running quite right? We've got you covered. Whether it's a Dodge diesel engine, suspension, transmission, or drive-train repairs, our Cummins Repair-certified Senior Master Technicians will pinpoint the cause and get you back on the road in no time.
Whether it's a 5.9L or 6.7L, Cummins engines can create some serious power. We've got the experience, tools, and skills to handle any Dodge Diesel modification – dream it up, and we'll make it happen.
From the common high pressure pump system issues to total engine overhauls and rebuilds, our Duramax Repair team has in-depth experience with just about every type of repair and service to Duramax systems, old and new.
Engine components, exhaust systems, part sales, service and repair all under one roof. Make PSP Diesel your one-stop destination for all your Duramax needs – you won't need anywhere else!
«Art is the best in his craft that I have ever experienced. he is honest to his word and not only met my expectations as a co-owner of a diesel repair shop, he exceeded them. I can't say enough about his professionalism and his attention to details on my custom 6.7L Scorpion motor.»
— Harry Chessher, Co-Owner at Signature Strands
Our shop uses web technologies by AutoVitals in conjunction with ALLDATA.
We are able to personalize your service interval based on how you drive and post authorized reviews from our customers for your benefit. Please explore below a growing selection of auto repair and collision shops, which follow our lead.
Customer service is unbeatable
These guys are absolutely awesome! PSP Diesel was highly recommended by a friend. We have been going to them for years now and never once they have let us down. They back their passion for their profession up by providing knowledge and taking the time to educate you on your vehicle. PSP Diesel is not…
I highly recommend you go to PSP
PSP diesel gives you the feeling of the mom-and-pop shop. The greatest feeling is when you leaves their shop, you know they did the job right the first time. They give you the feeling of being their number one customer but at the same time you're not just a customer but a part of the…
Honest and extraordinary service
have had work preformed on my vehicle at PSP Diesel since 2014 and could not be more pleased. PSP Diesel has some of the best customer service of any business I have ever dealt with. I would recommend anyone that has to go through the painful act of finding a trustworthy, honest and extraordinary service…
We are a Digital Shop
Our technicians use the latest technology to not only tell you if there are any issues with your vehicle, but show you. If we uncover an issue the photo will be e-mailed to you for your records. At the end of every visit you will receive a detailed report regarding the general health of your vehicle. Our #1 goal is to keep you safe on the road.